Your GP/Consultant will ask for information regarding your osteoporosis risk factors  and make an assessment based on a number of factors to decide if you need a DXA Scan.
It is important that a Referral Form is completed for anyone being referred for a DXA  scan.
Please Have your GP/Consultant print off, Complete and Sign the attached referral Form and return it to us. Please note Appointments are only made on acceptance of referral from your GP/Consultant. (click icon link below to open/download form)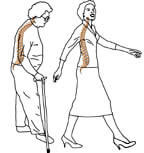 Articles/References
Denosumab in the Treatment of Osteoporosis: 10 Years Later: A Narrative Review.
Abstract : The fully human monoclonal antibody denosumab was approved for treatment of osteoporosis in 2010…. 
Should denosumab treatment for osteoporosis be continued indefinitely?
Abstract: Denosumab was approved for the treatment of postmenopausal osteoporosis in 2010, based on the FREEDOM study….